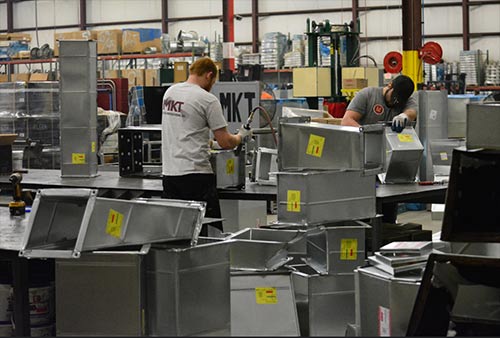 MKT products are factory fabricated to meet or exceed 3rd edition 2005 SMACNA Standards. MKT standardizes most rectangular duct construction with USA mill-stamped, G90 galvanized steel. We not only meet requirements set by the state and federal entities, but our highest standards are held by our own quality control guidelines.
*Specific needs and application do apply
Snap Lock
Economical. Shipped knocked-down and assembled in the field. Typically used for light commercial or multi-family residential/condo's/apartments. Easier to take mass quantities to a multi-story job. Normally wrapped in the field for installation. Low pressure work.
Slip and Drive
Assembled in the field. Typically used for light commercial or multi-family residential/condo's/apartments. Size of the duct has a lot to do with where you use slip and drive. Needs to be sealed after installed. It's used in low to medium pressure systems.
TDC Flange (Transverse Duct Connections)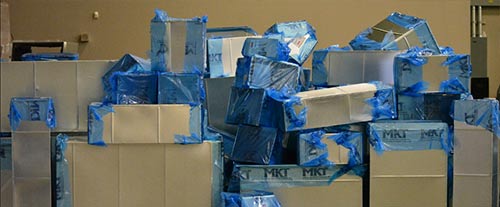 TDC flange is a roll form flange connection that provides a solid metal connection directly onto the duct reducing air leakage. Typically used for light and heavy commercial. It is quicker to install in the field, more leakage resistant that slip and drive. Uses a 4 bold connector system. The gasket is designed for low, medium and high pressure systems.
Double Wall
A double-walled duct is a secondary contained duct system. It is a duct within a duct, or encased in an outer covering, with an annulus (interstitial space) between the two diameters. The inner duct is the primary or carrier duct and the outer duct is called the secondary or containment duct. Conditioned space, quieting space.
Welded
A fabrication or sculptural process that joins materials. Typically used requirements are biological consideration (pharmaceutical), (duct must be sealed) or exhaust requirements, smoke, fumes, dust collection systems.
---
Application
Rectangular Duct is best used when physical space limitations and high air carrying capacity requirements are tight.
Marketable Applications
Ventilation Systems, HVAC Systems, Dust Collection Ventilation, Heating and Air Conditioning
Rectangular Duct Installation
Delivered with our product, all supplies come with connecting hardware, including, slips and drives, nuts/bolts, gasketed materials and hanging system.
All rectangular duct (except Snap Lock) can be lined with fiberglass, closed-cell foam, or any other industry material. On instances where specified, we can also manufacturer double wall duct.