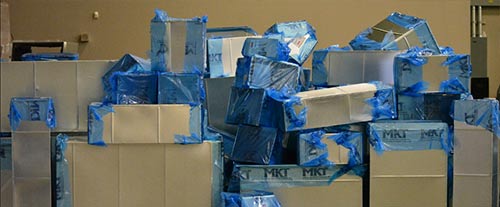 In the market for HVAC duct? Next time you (or your company) are looking to buy
rectangular duct for commercial or industrial installation, consider your sources. You have several options, two of which are: dedicated manufacturers of rectangular duct or mechanical contractors selling duct to other contractors. All rectangular duct is not equal.
Jim Addington, President of Mechanical Solutions, located in Richmond, VA changed the former Interbake Foods, Inc., to what is now the Cookie Factory Lofts, a 240,000sf apartment complex. MKT's Rectangular duct was used.
The rectangular duct was neat, clean and high quality. Now a days it's the trend to expose your duct and with MKT's rectangular, spiral and round, you can. Rectangular duct was fabricated properly and not slammed like some you see out on the field. The product is of a higher quality grade than what I can get independently here.
states Addington.
The Pro's and Cons of sourcing rectangular duct:
Commitment – at the ham and egg breakfast, the chicken is involved, the pig is committed.
Contractors that make rectangular duct often don't have complete shops. A manufacturer is committed to making nothing but duct and HVAC accessories.
Consistent Quality – A contractor may not use their shop for days at time, depending on the work schedule. A manufacture of rectangular duct is an expert – that's all they do, day in and day out. That type of production almost guarantees a higher quality outcome on a consistent basis.
Timing – A contractor-based sheet metal operation puts their emphasis on their work
first. Often, their own production schedules will overshadow deliveries to other rectangular duct customers. Manufacturers put everyone in line as orders come in. Delivery deadlines are what push the efficiencies of a rectangular manufacturer.
Focus – A mechanical contractor with sheet metal capabilities may have multiple divisions within that company, including: plumbing, plumbing service, HVAC, HVAC service, sheet metal installation, etc. The end result is the focus is diluted throughout the operation, including the focus on making rectangular duct. Whereas, a rectangular duct manufacturer is focused like a laser on one thing: making duct effectively and profitably.
Innovation & Automation – Most contractors will resist innovation because of associated costs of upgrading and modernizing, especially if making their own rectangular duct is done as a "lost leader". Rectangular duct manufacturers are constantly looking at new ways and processes to make a better product more effectively.
Value – In every aspect, from bidding, to manufacturing to delivery, a manufacturer can offer much more to a customer than a contractor selling duct to a contractor. A manufacturer using all the aforementioned positive processes is more likely to provide a value to a contractor, sometimes even if they already make their own rectangular duct.
Competitor vs Partner – Most important in today's competitive climate is the dynamic of a contractor buying from a potential competitor. This "fox in the hen house" scenario is avoided when rectangular sheet metal duct is purchased from a true manufacturer.