MKT Fabric Duct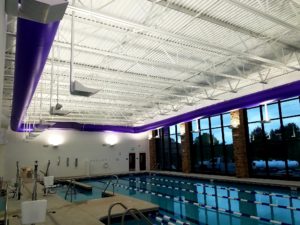 MKT represents a premium line of fabric duct to be used in applications where
suited such a food manufacturing, greenhouses, gymnasiums, natatoriums, and temporary structures/applications.
Benefits of Fabric Duct:
Available in multiple sizes and colors
Easy and quick installation
Flexible and versatile
CFM options to optimize air flow
Types of Diffusion
Radiant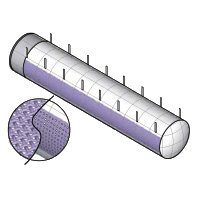 The Principle
Low-speed air dispersion (0.2 to 1 m per sec.) through a porous fabric surface.
Benefits
– Short air-dispersion range from 2 to 4 m.
– Comfort (no or very little draught).
 Impulsion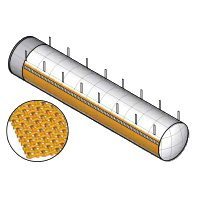 The Principle
Medium or high-speed air dispersion (from 2 to 7 m per sec.) through woven wire strips.
Benefits
– Air-dispersion range from 3 to 8.
– Less diffusers required for the area.
Energy
The Principle
Medium or high-speed air dispersion via calibrated openings (from 8 to 30 m per sec.).
Benefits
– Air-dispersion range from 4 to 30 m.
– Ideal for use with reversible units, even with high temperature gradients.
Hermetic (non-diffusing)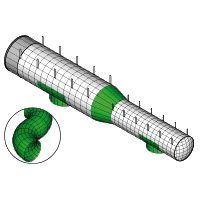 The Principle
Diffusers for transporting air.
Benefits
– Sounds are damped.
– Minimum support structures are required.
Shapes:
Circular Conduits
They are privileged whenever allowed by ceiling heights.

Semi-circular conduits
They are laid flat against the ceiling using a system of PVC profiles and are mainly used in comfort air-conditioning.
They may be recommended when ceiling heights are limited. The saving in space when compared with circular ducting with an equivalent airflow is evaluated at 40%.
Quarter-circular conduits
These conduits are fixed at ceiling / wall junction points when fitted horizontally or at wall corners when fitted vertically.
Suspension Systems
Cables (Galvanized/Stainless)



Rail (Aluminum Twist'n Fix)



---
Profile (PVC)


Miscellaneous Supports



---
Gripple

---
Colors
Wide range of standard colors and special orders can be made in non-standard colors.
Personalized Touch
Thanks to the new printing technologies available at present, personalized marking can now be provided: A printed logo or a visual of your choice. In this way, textile ducting becomes a media for promoting your brand image!
Materials
Polyester
Polypropylene
PVC Coatings
Clean Room Fabrics
Flame Safe M1
Fire Guard M0