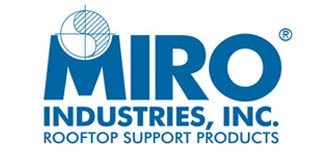 MKT is proud to represent an alternative to "flashing in curbs" for your rooftop duct.  MIRO® Industries Inc, offers a complete range of support products designed at any height or weight specification with minimal rooftop penetration.
The MIRO® Advantage:
Custom designed to any specification
Manufactured in the USA
All products are made with recycled materials
Engineering and weight load calculations available for all support systems
ONLY company in the industry to offer a 20 Year Warranty
Designed under 2.0 PSI
The Benefits of a Non-Penetrating System
Labor and time savings
Improves the integrity of the rooftop and ductwork
Reduces leaks
Portable, not permanently fixed to roof
Can be used in any climate region
MIRO® Marketing Literature
*Please note, MKT Metal Manufacturing represents MIRO's duct supports nationwide with our duct packages, MKT Manufacturers' Representatives represents MIRO's entire product line through existing distribution in the Maryland, Washington D.C., and Virginia markets*
*Territory exclusions apply*
---
Exceeding the Exceptions..

 
"MIRO® Industries have been providing services to the entire PBK Facilities team across the state of Texas in various industries. Their professionalism and quality of products has been absolutely outstanding throughout the years. They have been a major factor in our roofing projects success. " -Director of PBK Facilities 
"We highly recommend MIRO® Industries to any who may be in need of these types of services as our experience with them has exceeded our expectations." – Utilities Supervisor at Cargill
"My experience with the MIRO® team has been refreshingly beneficial. They provide a level of service and accommodation that I don't see in competitors. I routinely recommend MIRO® Industries to my customers due to their quality and level of service they provide." – Territory Manager of Morrison Supply 
Weatherguard™ Duct Systems
MIRO® Industries Inc. duct supports are just one of the exceptional products found with MKT's Weatherguard® Duct Systems. Weatherguard®  is a non-penetrating weatherized double wall duct system.
To learn more about Weatherguard® Duct Systems, Click here.